In June/July 2009 my partner (Suz) and I had the pleasure of spending 2 weeks diving around North Sulawesi. We spent a week at Cocotinos Dive Resort based on the shores of Wori Bay looking across at Bunaken Island and 4 days at Kasawari Dive Resort in Lembeh Strait. I have previously written and article on diving at staying around Cocotinos (see article) and thought I'd put together my thoughts on Kasawari Resort. Instead of raving on about the muck diving and critters of Lembeh, I thought I'd give an overview on our stay at Kasawari and our impressions of the resort.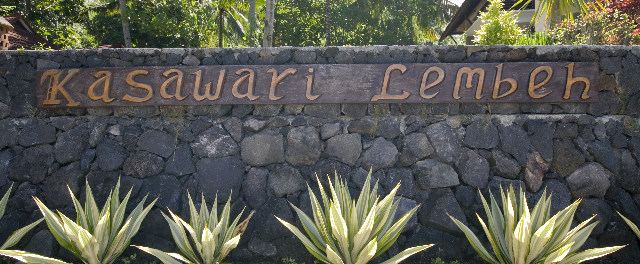 Kasawari Lembeh Resort is located 90 mins from Manado Airport and is a relatively new resort in Lembeh Strait as it opened just under 3 years ago. It is located in the middle of Lembeh Strait at it's house reef is the famous muck divesite known as 'Jahir'.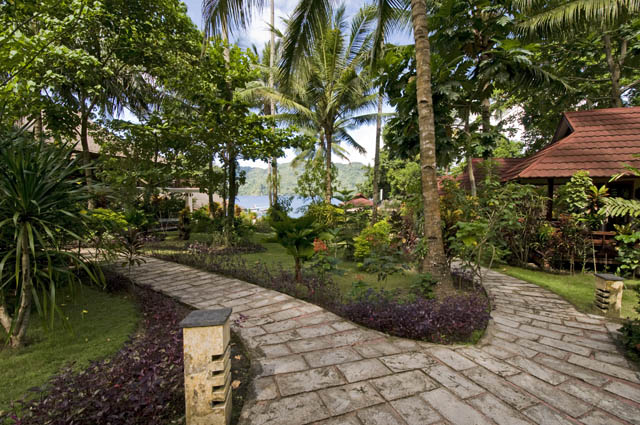 Accommodation: The resort is beautifully landscaped with lush tropical plants lining the pathways between the villas. There are 10 large luxurious villas (8 deluxe and 2 Premium villa's) spread around the resort with each of the villas located a short 30 second stroll from the dive deck and restaurant.  And most importantly there are no large stair cases that need to be climbed similar to other resorts that we have stayed at in Lembeh and the Philippines!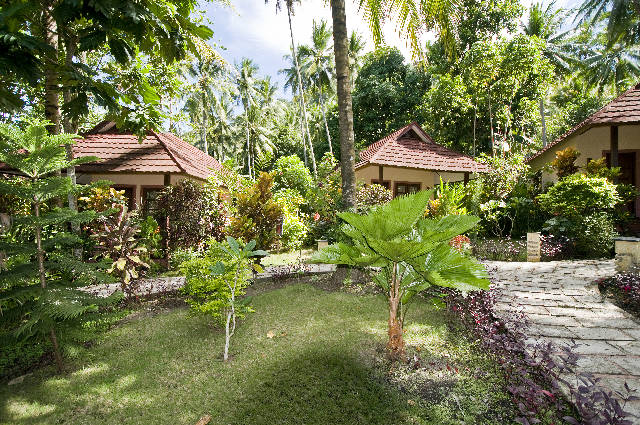 The tropical gardens are well maintainned and offer plenty of shade from the hot sun.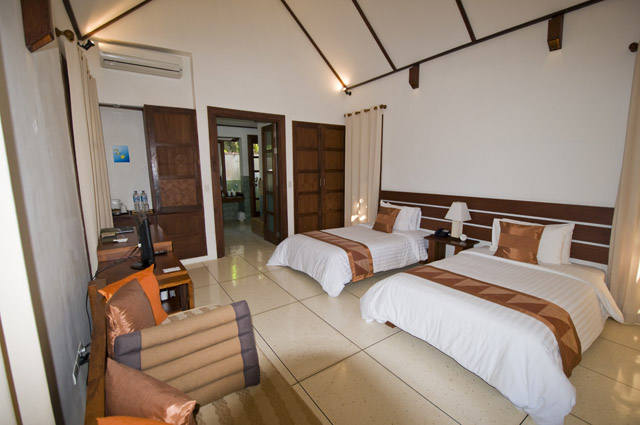 The deluxe rooms are large and roomy with a king size bed and there is ample cupboard space for storing clothes and items.  The bathrooms are really nicely laid out with heaps of space, probably one of the largest bathrooms that I have come across. Hot water for the shower works which is very important!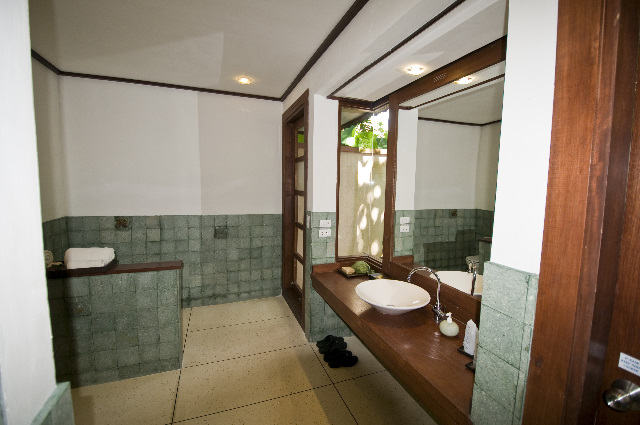 Each villa has air conditioning with climate control, ceiling fan, mini bar, safe deposit box, tea and coffee making facilities and even a CD player if you want to play some music!  Each villa also has its own private wooden deck which is great for sitting on in the afternoons to enjoy a beer or relax with a book or the laptop.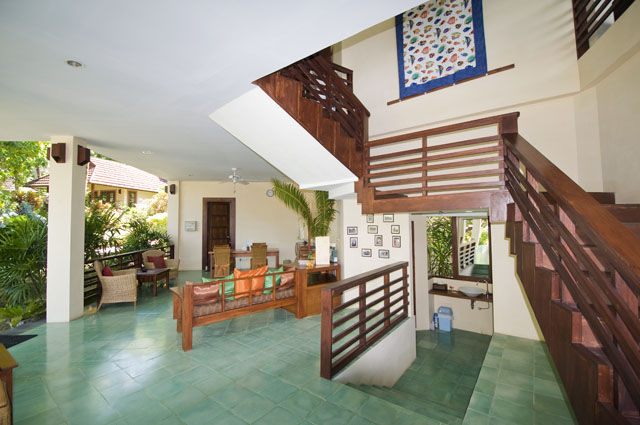 Diving: At the bottom of the resort there is large dive deck where divers can put on their wetsuits and then stroll down to the small platform over the water for the dive briefing.  The dive site is drawn on a white board by the dive guide who then goes over the plan for the dive.  These briefings were very useful as it gave an idea of what was to be seen and where to go to find it!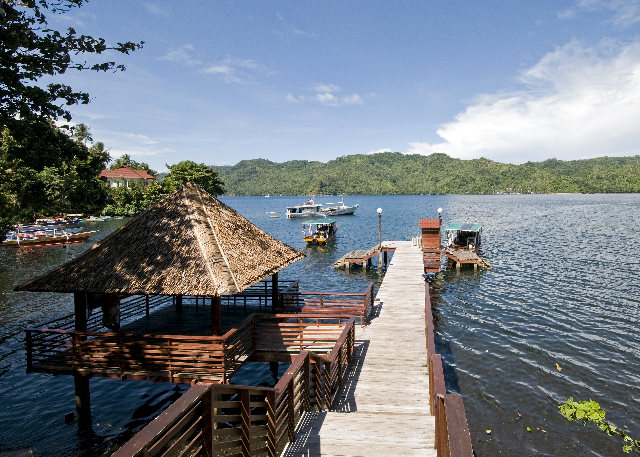 Nitrox EAN 32 is available from the membrane system which is highly recommended to allow for extended bottom times, especially at some of the sites were lots of the critters are found in the 20-30m range (Angels Window and Police Pier are two that come to mind).
Dive Guides:  We were fortunate enough to meet and dive with four different dive guides.  Ali, Indra, Nonsix and Hanni were excellent in the water and pretty good at finding the critters.  Indra was fantastic on one dive at Nudi Retreat II where he found the pygmy seahorse Hippocampus pontohi in 1m of water!  However, compared to our previous two visits to Lembeh, the critters were very quiet this year as it was rather difficult to find any of the sought after animals such as anglerfish, flambuoyant cuttlefish and mimic octopus.  An example of this is the Hairball divesite which is considered one of the premier muck dive sites in the world.  I swam around for 80 mins at Hairball with the dive guide and didn't take a single pic… there was nothing to be seen!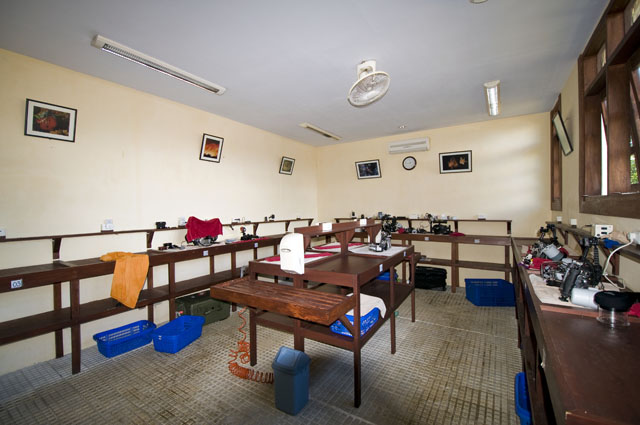 Camera Room: Just below the restaurant and next to the reception is a dedicated camera room; as you can see from the photo below the camera room is very impressive!  Large benches accommodate all the camera equipment and there are multi zone powerpoints with each camera station which means if you forgot your powerpoint adapter it won't be a problem.  A lot of thought has gone into the design of this camera room, it has all the space and power that a photographer could possibly need!  We left our camera bags with lens and ports in the camera room at all times as the room is locked up each night and security at the resort ensures that your equipment remains safe.
Other bits:
- There is also WI-FI internet available however we found that it was sporadic and that the wireless reception wasn't that great in the villa whilst in the restaurant/bar area it worked fine.
- Massages can be booked through reception and I have to say I really enjoyed my massage after the last days diving.  It was relatively priced at approximately $18 US which is great value for money in my view.
We really enjoyed our 4 day stay at Kasawari and for those divers that wanted the nice accomodation, attention to detail and great diving services then this is a great place to stay.
For further information on Kasawari Dive Resort visit the website. Underwater images from Kasawari can be seen here.