Aussie Adventures in North Sulawesi
By Dave Harasti (May 2008)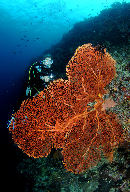 In April 2007, my partner and I spent two fantastic weeks diving with Odyssea Divers around North Sulawesi. Over recent years we have travelled to many overseas diving destinations (such as Papua New Guinea, Sipadan, Philippines, East Timor, Solomon Islands and the Red Sea) and the diving around Lembeh and Bunaken Marine Park was easily the best that we had encountered. It was absolute heaven for anyone interested in critters and some of the dives sites were like visiting an underwater zoo!

On our return to Australia, we made our dive buddies incredibly jealous with our pics of the beautiful coral reefs around Bunaken and the weird critters of Lembeh Strait so after some relentless pestering we decided to organise a group trip to share our experience with them. As a result, in March 2008, 9 Australians 'invaded' the Manado region and after 24 hours travelling from Sydney (via a night stopover in Singapore) we finally found ourselves kicking back and relaxing at the brand new Cocotinos, A Small Beach Resort located on the waterfront at Wori Bay.

When we previously visited in April 2007, we had walked around the Cocotinos site just as the construction had commenced and to be able to stay at the resort less than 12 months after building started was very impressive. The resort is only a 30 minute drive from Sam Ratulangi International Airport in Manado and Cocotinos arrange all transfers and baggage handling so there are no worries from the moment you arrive. A visa into Indonesia (for Australians) can be paid on arrival at Manado and costs $25 US.

The resort consists of 21 rooms ranging from the standard duplex villas rooms to the suites on the upper floors of the water's edge duplex villa rooms; these suites are so large you need a GPS and map to navigate your way around! The other highlight of the rooms is that they have their own private balcony with a huge round spa tub providing an amazing view over Wori Bay towards Manado Tua in the distance. All rooms have air-conditioning and are equipped with an ensuite bathroom, safe deposit box and a small fridge. Each guest is even provided with their own personal Cocotinos toiletries and a pair of thongs to wear around the resort!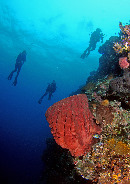 The best thing about the Cocotinos resort is that it was designed by divers for divers so the attention to detail is fantastic. Each room has a huge table that is great for laying out all the camera equipment (or make up and toiletries as others might choose!) and there are power points throughout the room in convenient places at table's height which makes it possible to charge everything even with your energy saving keycard off! Even the dining and bar area is covered in power points so each night you could sit around after dinner relaxing with friends whilst playing on the laptop instead of having to head off to the room to play with the day's photos alone! As a result, each evening was very sociable with people staying around the bar area after dinner sharing photos, id-ing the critters and chatting about the day's diving; much better than people hiding in their rooms playing on their laptops!
Other highlights of the Cocotinos resort included the dedicated media/library room where one could assemble their camera equipment, download photos on to the computer provided, copy images to CDs and identify all the critters from the dives using the reference library. There's even a compressed air gun located on the dive deck so you can remove excess water off the camera housings before opening.

The food was excellent, ranging from Indonesian dishes to westernised meals with more food provided than anyone could possible eat, and all included as part of the tariff. The bar in the dining area offers all sorts of beers and cocktails (the Cocotinos Cocktail is a must but save it for the last night!!!) and the drinks were reasonably priced ($3 for a large Bintang Beer!). Another highlight for the nerds amongst us is that there is wireless internet access throughout the resort, meaning we could still keep in touch with the world… if we chose too!
Everyone in the group was in agreement that Cocotinos was the best dive resort that they had visited and the friendly staff, great food and outstanding dive facilities made us feel very spoilt! It was a pretty good sensation sitting on the deck overlooking the bay each evening knocking back a cold beer or cocktail after a hard day's diving! And if relaxing on the deck isn't enough, there is always the huge swimming pool or you could try out a traditional Indonesian massage in the spa room located on the water's edge under a beautiful 50-year-old sea hibiscus tree.

During the course of our 12 day visit to North Sulawesi, we managed 29 dives as we were generally diving 3-4 times a day. Fortunately we were using Nitrox which gave us extended bottom times so dives were generally 60 to 90 mins long. Most of the diving was around Bunaken Island and Lembeh (even though Lembeh is on the other side of the island, Cocotinos can organise overland trips across to Lembeh for a day's diving consisting of 3 dives). Generally, each day the Cocotinos dive boats head out to the offshore islands of Bunaken, Manado Tua and Siladen, however we also did several dives around the inshore Odyssea Reefs which are renowned for producing great critters such as harlequin shrimp and ghostpipefish.

Bunaken Island is located within the Bunaken Marine Park. To dive in the park you must pay a fee of approximately $20 to obtain an annual marine park permit which is a small token that is attached to the BC. The diving around Bunaken consists of huge wall dives that are generally done as a drift dive because there is normally some sort of current running. The walls are covered in hard and soft coral with large barrel sponges and gorgonian fans featuring prominently and we would encounter huge schools of pyramid butterflyfish, orange and purple anthias and some very large napolean wrasse and green turtles.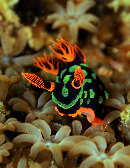 The best dive we had at Bunaken Island was on the last day at Mike's Point where a couple of us explored the deeper sections of the wall below 40 metres. It was down in these depths that we saw dogtooth tuna and some reef sharks, and as we slowly ascended to the reef top we managed to cover a distance of approximately 500m whilst we drifted along the wall. The great thing about the dive sites at Bunaken is that the reef tops are at approximately 5 metres, so safety stops can be very enjoyable as you explore all the nooks and crannies of the reef waiting for the minutes to pass by.
As part our trip, we had a special day trip charter up to Bangka Island, located at the most northern tip of North Sulawesi, and about a 2 hour boat ride from the resort. On this day we were fortunate enough to dive Batu Mandi, Sahaung and Paradise Jetty. However, we did learn that diving Paradise Jetty on a really low tide probably isn't the best idea as visibility was only 3 metres – we really should have taken the advice of our dive guides and chosen another site, though we did manage to find several very cool critters that made it worthwhile! Sahaung was the pick of the sites as it's covered in soft corals and gorgonian fans with huge schools of blue stripe snapper covering the reef. It's also the first time many of us had seen a juvenile emperor angelfish who was actually quite happy to pose for the camera!

One of the best dives of the trip was at Gabet Point, only a short 10 minute boat ride from Cocotinos. On a single dive we encountered 2 different species of anglerfish (incorrectly referred to as frogfish throughout the Asian Indo-Pacific region), a pair of robust and ornate ghostpipefish, two leaf scorpionfish, harlequin shrimp, 8 species of nudibranch and a pair of jawfish fighting! This was one of those dives where the Nikon D300 got a full work out with the memory card filling up very quickly!

The major photographic highlights of the trip were the pair of Harlequin Shrimp found at Police Pier and the two species of Rhinopias (Weedy and Paddle Flap) found together at the Aer Prang dive site in Lembeh. Other good discoveries included the Boxer Crab on Siladen Island, the Mandarin fish on Odyssea Reef and the Pygmy Seahorses that we encountered on various gorgonian fans at a number of dive sites.

There were several particular species that we were keen to photograph during our visit and whilst we were successful at ticking off most of our critter 'wish list', we struck it out on the 3 cephalopods that we were desperate to see. We just didn't have any luck finding the mimic octopus, wonderpus or flamboyant cuttlefish…which has just given us more incentive to start planning another trip for next year! So stay tuned as plans are underway to take another group of Australians back to Cocotinos and North Sulawesi in April 2009!!
A trip to North Sulawesi can be incredibly cheap, with a minimum of 20 dives and all food, transfers, flights and accommodation costing under $3,000. As though the marine life isn't enough, this is yet another great incentive to visit especially with the Australian dollar being so strong! For additional information and more images of diving in North Sulawesi visit the gallery.