Vietnam - The next big dive thing?
Published in Australasian Scuba Diver Magazine
By Dave Harasti (www.daveharasti.com)

It was time for my partner and I to undertake our yearly overseas holiday; this time I was under strict instructions that it wasn't to be just another 'scuba diving' holiday. For this trip my better half (Mel) sought the luxuries of diving, shopping and being able to sample the fine cuisine of restaurants and pubs. So this pretty much ruined by grand plans of a two week diving trip to some remote island in the Solomon's or Papua New Guinea!
Friends of ours had just returned from Vietnam raving about what a great country it is and how they were already planning another holiday back there. Hmmmmm, now if only it offered scuba diving we could have our new destination. As Vietnam is not a noted diving destination I entered the world of 'Google' and 'googled' my way to the Rainbow Divers website. What a pleasant surprise, it appears there is diving in Vietnam after all and from the photos on the website the underwater realm looked quite encouraging. So our new diving destination had been decided; Vietnam here we come!
Vietnam

Vietnam is located in South-eastern Asia, bordering the Gulf of Thailand, Gulf of Tonkin and the South China Sea. It borders the countries of China, Laos and Cambodia and even though the country is not large it still has a population over 80 million. Vietnam is quickly becoming a very popular tourist destination and the tourism industry is booming. In the first half of 2005, 1.7 million tourists visited the country, an increase of 24% compared with 2004. Many people I have spoken to mention that Vietnam today reminds them of what Bali and Thailand were like 20 years ago.
The country itself is very beautiful with huge mountain ranges and lush green rice paddy fields. Three-quarters of the country is mountainous and the Red River Delta is the expansive river system in the north whilst the Mekong Delta occupies the southern region. These huge mountain regions provide spectacular landscapes with dense rainforests that are often cloaked by dense misty clouds.
Visitors arrive into Vietnam through Ho Chi Minh City international airport in the south or Hanoi International airport in the north. Our journey commenced and finished through Ho Chi Minh. We are already planning our next dive trip to Vietnam (2006) and this time we arrive through Hanoi for a different experience.
Ho Chi Minh City

Ho Chi Minh City is the largest city in Vietnam (Hanoi in the north is the capital) and is more commonly known around the world as Saigon. The most lasting impression you will get from this city is the bikes, bikes and more bikes! Using motorbikes is obviously the most efficient form of transportation around Vietnam and the locals manage to fit everything on the back of a bike, including one bike that was carrying a fridge! Also, here is the first travel tip: Pedestrian crossings in Vietnam are not like crossings in Australia. It appears that the rule in Vietnam is that the pedestrian must stop as the bikes and cars do not. Crossing the road was kind of like playing 'Frogga' on the old Atari…

Some of the more interesting sites in Ho Chi Minh to visit are the Post Office, Notre Dame Cathedral, The War History Museum, Reunification Palace and the old US Embassy. It is best to find accommodation in 'District 1' as all the major attractions; shops, markets and restaurants are within easy walking distance. We stayed at the Caravelle Hotel which is without a doubt one of the most luxurious hotels we have stayed in and it only cost $100 a night. And a night visit to the Saigon Saigon Bar at the Caravelle is a must. There are many markets in District 1 where one can purchase DVD's, t-shirts, clothes, bags, perfumes and pretty much anything else that you can imagine.
Nha Trang

Nha Trang is a coastal town that is quickly developing into a major tourist destination in Vietnam. High-rise hotels are being built along the beachfront and it is starting to look like a mini version of the Gold Coast in Australia. There are a huge variety of hotels to select from ranging from the 5 star behemoth Sunrise Resort ($100 US per room) to the cheaper three star Green Hotel ($30 per room). Restaurants and bars are located throughout the city centre and we found that you can't pass up on a dinner and drink down at the Sailing Club on the main beach. Other good places for food and a 'quiet' drink include Crazy Kyms, The German Beer Garden and The Rainbow Bar.
Nha Trang is the prime location for scuba diving in Vietnam. Rainbow Divers are the largest dive operator in Vietnam that is owned and run by PADI Course Director Jeremy Stein with excellent support from many dive instructors including Grant Martin and Craig Anderson . We checked out some of the other dive shops in Nha Trang and whilst they offered cheap diving their service, equipment and professionalism were not in the same league as Rainbow. Additionally, Rainbow Divers are the only dive centre that provides Nitrox and are rebreather 'friendly'; they were very efficient in providing pure O2 fills as well as arranging for sorb for my Sports Kiss Rebreather. Note - when sending sorb to Vietnam allow for delays at customs who seem to think it is poisonous! Diving on a rebreather in Vietnam was a large eye opener for the local dive guides who referred to me as 'Rocket Man' because of the two small cylinders on my back! Trying to explain to the locals that there are no bubbles or noise was amusing to say the least.

The main shopfront for Rainbow Divers is in the centre of town and is located at the Rainbow Bar; a diveshop, restaurant and a bar in the same location - this is pure heaven for some divers! After a days diving it was common for divers to mingle at the bar talking about the days events whilst drinking beers and cocktails into the night!

The diving out of Nha Trang is via three types of boats. The big boat carries twenty or so divers and visits the closer and shallower divesites that are more suitable for teaching students whilst also catering for snorkellers. Our favourite boat was the new speedboat labelled 'Ocean' that comfortably took ten divers and was able to visit the more distant sites including one of the best dive locations that we have come across - the 'Electric Nose' divesite. They also have the really fast speedboat named 'Eric' that caters for four divers and can be chartered for the day to visit the sites that are not frequently dived. Most of our diving was off the Ocean speedboat and this is the boat of choice for small groups and photographers that like to get away from the chaos of open water classes! But I also recommend a days diving from the big boat to gain the full Rainbow Divers experience! The food served between dives is sensational and the crew are very friendly and helpful.
Nha Trang has over 20 different dive sites to choose from and these were our favourite sites: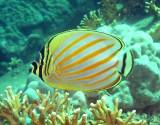 Electric Nose: No one on the boat could explain how this site, a huge rock pinnacle emerging from 45 metres and breaking the surface, was so named. But that didn't matter as this is without a doubt one of the single best divesites that we have been too. Like all dive sites in Vietnam big fish life is absent but the colours and diversity of soft corals made it one of the most prolific spots for macro life. Over fifty different species of nudibranchs were recorded from this one spot as well as numerous types of shrimps, crabs, flatworms, cowries and mantis shrimps. The nudibranch diversity is incredible and seven of the species we found are new discoveries that have not been described yet. The walls of the pinnacle are covered in a huge variety of soft corals and there is a large swim through that is encased in thousands of bright yellow sunflower corals. This site was so good that we went back there every day and even after 4 visits we still didn't manage to explore the entire site.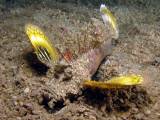 Madonna Rock: It is not very difficult to see how this divesite got its name; two large triangular shaped rocks sticking out of the water are very reminiscent of a Madonna video clip. There are a couple of excellent swim throughs and caves which are filled with millions of small glass fish. Within the caves you can find many unusual flatworms and shrimp species and this is a good location to observe ornate ghost pipefish.
Moray Beach: This is a very popular site with all the dive boats and hence it can be quite crowded underwater with all the courses being taught. This is an excellent location to photograph anglerfish, ribbon eels, devil scorpionfish and out on the sand you can find sea whips with host shrimp and gobies as well as Saddleback anemonefish. In the shallows the coral density is vast with large colourful soft corals and hard plate corals that many small tropical fish species hide in.
Whale Island

Whale Island is approximately a 90 minute drive north of Nha Trang located on the very quiet and beautiful Van Phong Bay. A quick boat across the bay brings you to the beautiful sheltered bay of Whale Island with its turquoise coloured water and white sandy beach. Every year between April and July, the whales and the whale sharks come to stay in the archipelago to feed themselves on the masses of krill and the plankton; hence this is where the name 'Whale Island' is derived.
The Whale Island resort was built in 1997 and contains 23 traditional bungalows that are located along the beach. The accommodation is very basic and primitive with each room having a bed, a mosquito net and a separate room with a basin, shower and toilet. There is also a small fan in each room which provided us with a 'small' amount of relief in the 30+ degree heat! One problem we encountered is that there is only one power point in the room so you either have the fan on to try and keep cool or you unplug it to charge your camera and strobe batteries - it was a major dilemma at times!

All meals are included as part of the tariff for staying on the island and traditional Vietnamese cuisine is served three times a day with the meals varying each day. Dinner generally includes some form of seafood caught by the local fishers including fish, tuna, crab, lobster and shellfish and you never walked away hungry.
The diving out of Whale Island is spectacular with diving conducted from January through to October. Rainbow Divers have their own dive shop on the island located next to the wharf and each morning the boat departs for two to three dives. The furthest dive site is just over one hour travelling time and it is well worth the journey. Some of the dive sites we visited were: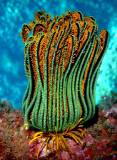 Hon Trau Nam (or Three Kings): This was easily the most beautiful and spectacular of the Whale Island dive sites. It is named from the three rock pinnacles that break the surface however it's the underwater marine life that makes this site so spectacular. Mel described the bottom of this site (20 - 35 metres), which is covered yellow, white and purple soft corals and gorgonians as an 'Underwater Fantasy Land'. This spot was ideal for wide angle photography if one wasn't too busy photographing all the weird and unusual critters living in the soft corals and gorgonians.
White Rock: This is one of the furthest sites from the Whale Island however the journey is well worth it as it is an incredible dive site. Sheer walls drop from the surface down to depths of 40 metres with several huge pinnacles emerging from the depths. The bottom of the site is covered in black coral trees and gorgonians and on the sandy bottom huge black rays can be seen. The walls are covered in soft corals, nudibranchs and if you are fortunate you may find the leaf scorpionfish that can be found on top of the pinnacles.
Bai Su: This site is within Van Phong Bay and has entirely different marine life to the open ocean sites. This was the only dive site that we were fortunate enough to find a pair of yellow ghost pipefish living in a crinoid. The bottom topography at about 18 metres is rather barren and silty but this is where many unusual invertebrates and fish species were found including the rare Fire Urchin shrimps. The upper region (less than 10 metres) is a pure coral garden with many different species of hard and soft corals covering the reef. This is also an ideal place for snorkelling.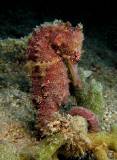 Beach Shore Dive: We only had time to do the one shore dive at Whale Island and this is what we found: 2 species of frogfish, 2 species of seahorses, 11 different nudibranchs, devilfish, stonefish, leaf scorpionfish, two types of morays, pipefish and many other types of fishes and corals. The maximum depth of the diving is about 12 metres and it is one of the most diverse shore dives that we have done. We spent 100 minutes in the water and I would have stayed longer if my camera battery hadn't died…
The snorkelling right off the beach is also worth while and a good excuse to cool off from the heat! I did learn a valuable lesson that you must be very carefully when you move over some of the shallow areas, as the long spined needle urchins can be incredibly painful when they pierce flesh! At the end of the snorkel you can exit the water directly at the bar and cool off with a local beer whilst watching a spectacular sunset over the mountain ranges and lagoon. Other activities that can be done on Whale Island include sailing, kayaking, volleyball, island walking and it is also an excellent location to photograph local birds and wildlife.
Hoi An

Hoi An was our final destination in Vietnam and is a short one hour flight on Vietnam Airlines from Nha Trang. Hoi An is a beautiful riverside town that is located on the coast about 45 minutes south of Da Nang. The town is rich in culture and the old town itself is listed on the World Heritage List as it is an exceptionally well-preserved example of a South-East Asian trading port dating from the 15th to the 19th century. The buildings and street plan of the ancient town reflect the influences, both indigenous and foreign, that have combined to produce this unique destination. During French colonisation of Vietnam, Hoi An served as an administrative centre and during the Vietnam War, the town, with the co-operation of both sides, remained almost completely undamaged and hence it still has its historical appearance and uniqueness.

Hoi An is also famous for its tailors; this is one of the best locations you can visit to have clothing made. The streets are decorated in colourful fabrics and this is the place for the bargain shopper, you can have custom-made leather jackets produced for you in 2 hours! It is also an excellent location to purchase Vietnamese artwork, ceramics and lanterns and there are many fantastic places to eat. Here is a tip; Mango Rooms located down by the water is one of the best places for outstanding food and drinks whilst the night always kicks on at the Tam Tim bar!
In 2005 Rainbow Divers extended their operations to Hoi An and are operating out the Hoi An Beach Side Resort. Hoi An Beach side resort is one of the nicest places that we have stayed and the five star accommodation and service comes at a very reasonable price. The diveshop and training classroom is located adjacent to the large swimming pool and also next to the boat launch. The dive resort is well managed by two English instructors, Graeme and Jen, who offer discover scuba diving through to divemaster and instructor courses.

Diving is conducted out of a speedboat that can take up to 12 divers and it's a 40-minute boat ride out to the dive sites of the Cu Lao Cham Marine Park. The marine park is made up of 8 islands that are home to 155 species of corals, 202 species of fish and 84 species of molluscs. We only managed to squeeze in two dives whilst in Hoi An because we were too busy shopping for clothes and eating at all the restaurants! The dive sites consist of many caves and swim throughs over rocky reefs whilst in shallow depths there are abundant colours with hard and tropical corals swarming with small reef fish. This is also a good location to see ribbon eels, very 'weird' nudibranchs and if one is fortunate they might see Harlequin Shrimp. The marine park is also an excellent location for snorkelling.

Getting there: Many airlines fly into Vietnam daily from most major cities. There are regular flights with Cathy Pacific from Hong Kong and from Singapore with Singapore Airlines as well as flying direct with Vietnam Airlines. Internal flights are with Vietnam Airlines.
Best time to go:
Vietnam is a place of many seasons and when one region is wet, cold or steamy hot, there is always another part of Vietnam that is sunny and pleasant. Basically, the south has two seasons: the wet (May to November, wettest from June to August) and the dry (December to April). The hottest and most humid time is from the end of February to May. The central coast is dry from May to October and wet from December to February. The north has two seasons: cool, damp winters (November to April) and hot summers (May to October). According to the dive operators the best time for diving is from April through to August and we found that conditions in July were perfect. Another travel tip: Take the TET Festival (late January or early February) into consideration when planning a trip. Travel becomes very difficult, hotels are full and many services close down for at least a week and possibly a lot longer.
Handy tips:

Electricity is 220V with European two round pins. The Vietnam currency is Dong (pronounced 'Dom'). Major hotels accept all credit cards and travellers cheques can easily be exchanged at most major hotels and banks. US Dollars are also widely accepted. Also, you cannot take Vietnamese Dong out of the country so spend it all before you leave. Departure Tax is US $14. Water temperatures range from 25 to 30 degrees.
Useful Websites: